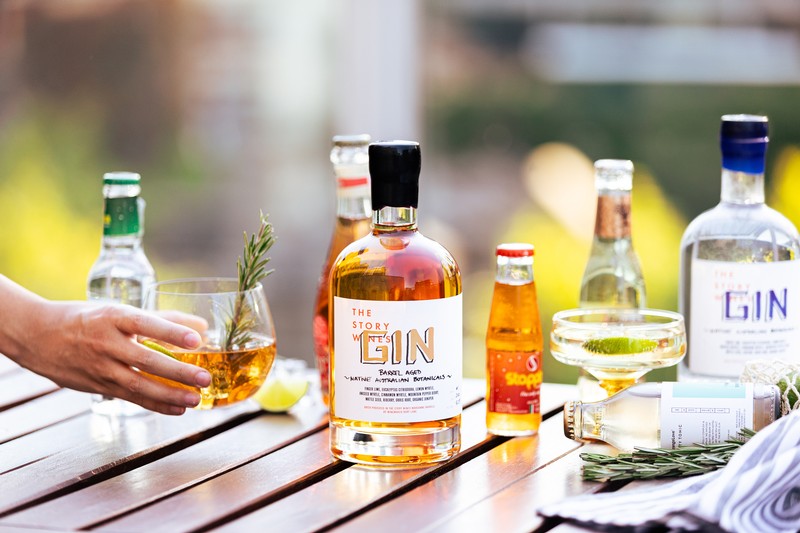 Now proudly onto our 10th batch of Story Gin and having just released our first bach of Barel Aged Gin, gin is a permanent fixture of the Story Wines family. The project started as a serendipitous result of working with friends Gypsy Brewing Co. out at the winery at Bangholme, and learning that they had a still and were beginning their own craft spirit range. We got chatting and they kindly offered me use of it to make the first batch using native Australian botanical ingredients. Gin, perhaps more immediately than wine even, reflects the origin of its ingredients. I was keen to create something that tasted distinctly Australian, without veering into caricature.
It has been a fantastic experience to take my palate for wine and apply it to new flavours, and a great privilege to collaborate and learn from Gypsy Brewing's distiller Sebastian Raeburn.
I had often thought that the spice profile of our gin would complement the subtle flavours of older French oak, and wanted to look for ways to bring my wine and spirit passions closer together, so began experimenting with short term maturation of a modified distillation technique of our gin in small port barrels. With promising results we expanded to fill a used white barrique from our Marsanne Roussanne Viognier program, and another 100lt old Sherry barrel to give a little rancio complexity.
The results after over 12 months barrel ageing and blending were a golden honey coloured spirit with all the spice, eucalypt and citrus inflections of our standard gin, alongside softer, honeyed, winey notes. Bottled at a high proof of 50% this gin is a full throttle sprit of real intrigue that works well as a whisky substitute in many cocktails, with a dash of dry ginger on ice or just sipped neat.