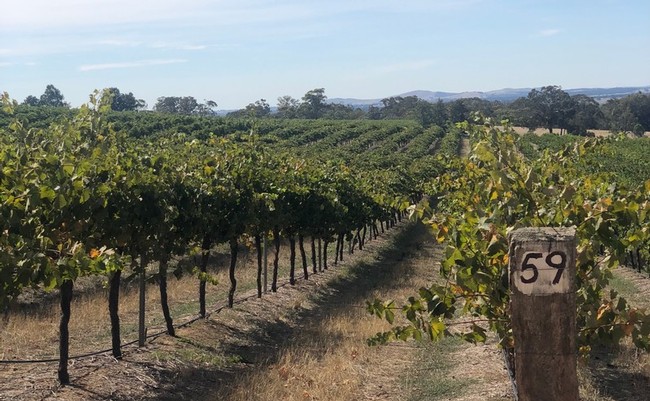 Syrah at Westgate Vineyard, Grampians.
2020 vintage report
Regardless of any other events – cataclysmic though they could have been, none will define the 2020 vintage more so than Coronavirus. Its tentacles reached into almost every sector of our lives, and its effects will be felt across the wine industry for long to come, yet in simple viticultural and oenological terms it has had near zero impact on the wines themselves. It didn't effect flavour, it didn't affect the sun, the rain, the smoke, the disease pressure, the fermentation speed, the temperature or any other climatic or environmental input. Yet there it is. There could be no true account of the vintage without it.
Were it not for the virus, there would still be umpteen stories to tell from 2020. Our production was down 60% from the cumulative impacts of a dry spring, poor wet, windy weather for a couple of weeks during flowering, and then a hot and dry run up to Christmas, when berries develop and start to ripen. Although so devastating and frightening for so many, the mega-fires throughout eastern and northern Victoria have themselves been subsumed by a more global issue, but they tore many a vineyard and home, and left tainted and unusable grapes even if they didn't directly scorch them. Our Whitlands Riesling was one such casualty, and I deemed the risk of poor wine too great for our brand.
The Grampians, thankfully, were largely unaffected by fire or smoke, and the harvest was shaping up as a superb one. Bunch numbers were adequate, the weather mild, January rains kept the vines going but disease pressure was still low. At harvest time however, even as the weather cooled and promised a classic vintage, simply didn't have the volume expected. Everyone was surprised by how low the bunch weights actually were, how small the berries, how few per bunch. What looked average to below average turned out to be less than half. Such is agriculture!
Further south, in Henty and Port Campbell, that cooler, wetter ripening season and poor fruitset turned out to be much more impactful than even the Grampians, and the crop was not even economical to bother harvesting. Such a shame.
So this year we have managed to make only a small amount of syrah (under two tonnes!) from Westgate Vineyard, a little under four tonnes of Grenache from Paul Dakis' vineyard at Great Western, 800kg of Mourvedre from the Robinson's Moyston Hills Vineyard, and mercifully an average size crop of approximately six tonnes of Marsanne, Roussanne and Viognier, again from Westgate.
The wines are now all pressed and in barrel, ticking through malolactic fermentation as the weather cools. My initial impressions are of powerful wines, with ripe and persistent tannic structures, yet quite fresh acidities and red fruits more akin to a cooler year. So was it a cold or a warm year? I would say, at the risk of sitting on the fence, both! It started warm, and I thought we could be in line for a super early harvest, but January and February cooled, and rainfall also allowed the ripening curve to flatten (sorry, couldn't resist), and we picked with low pHs, high malic acids, yet healthy sugars. How much of that acidity will remain after malolactic fermentation remains to be seen. Fermentations were the cleanest and healthiest I have observed for years, and the resulting wines seem very pure expressions, which gives me the option to work with the lees to add more texture rather than discard them for fear of sulphides. They know nothing of corona.
So how were we affected then? The main issues are industry wide ones. March saw the start of the shutdown, and I didn't know whether it would be a blanket imposition or a more nuanced one. For a few weeks there we faced the prospect of potentially having to walk out of the winery with a shed full of grapes destined to spoil, and even were it not imposed arbitrarily it would certainly have been so if just one of our workers or contract clients contracted the illness. Tenterhooks. Logistics were more difficult, picking crews shunned altogether from some vineyards, transport strained and pricing seemed to jump for just about everything as the fear took hold. In a favourable yet bizzare twist, winemaking was considered an essential service, and we breathed a sigh of relief (into our elbows).
The wider implications for the industry have been plain to see with the closure of all restaurants, to the point of writing, for 10 weeks. Our business has always been majority focused on the restaurant trade, so our revenue has declined by around 70%. Export markets have dried up. Even a staggered reopening of restaurants will take many months, if not years, to get the restaurant trade back to what it was, and in these times of rapid disruption and change, its next incarnation may indeed be very different. So we try to adapt, we invest what we have in servicing new clients and building our mailing list of direct supporters. We run Zoom tastings and forge new partnerships to deliver events and find a way to get our wines into people's minds and mouths. Times of upheaval force a rethink, and that is invariably a good thing. Perhaps our wine business has to change, perhaps we do less of some things and more of others. One thing is clear, the need to focus on wine quality, to hone the craft, to make wine that impresses. I think with the passage of time the wines from 2020 will do just that.