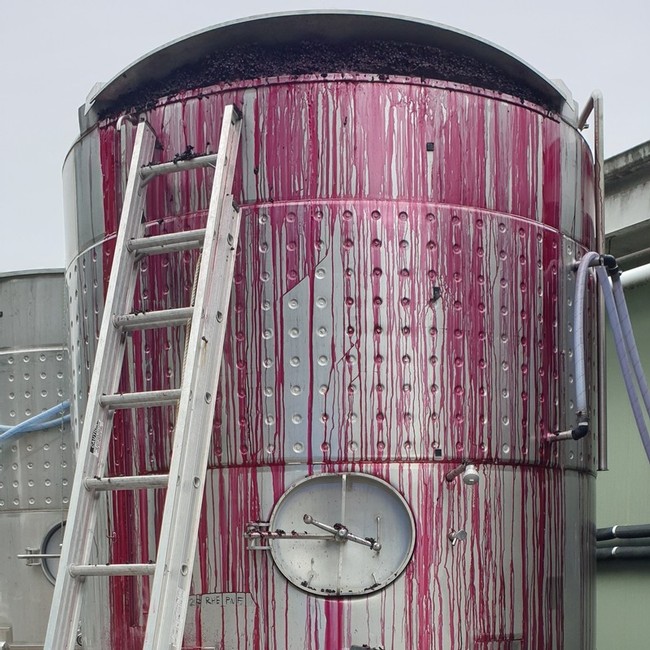 2022 VINTAGE REPORT
With only one tank left to press later this week, the mornings have grown cold, the sunny days fewer and much shorter, and the whirlwind that is vintage is petering out, along with my enthusiasm for cleaning the press yet again! Tanks are full of freshly pressed reds, which will be put to barrel in the coming weeks, and hours return to full-time, from significantly more than that. I even managed to squeeze in a Saturday off last weekend – my first day off since February. But that is expected, and it is now time to re-engage with friends and importantly family, who barely remember what I look like and share hugs, time and hot soup.
All that whinging aside, 2022 marked the first harvest where I have had regular employees to help with the daily monitoring of ferments and cleaning of tanks and running of presses (and BBQs). Emma Henkens came to us from Napa, California, where she is studying winemaking at UC Davis. Despite this being only her second full harvest she picked up the necessary tasks within a few days and quickly became indispensable. With luck she will be back to help blend some of the wines in November and it will likely take me that amount of time to recover from the copious amount of hot sauces she inflicted on us each lunchtime! Our other harvest worker was Farhad Bandesh, who came by a more torturous route – from the Iraninan side of Kurdistan and via an eight year stay in Australian immigration detention. His kind nature and terrific work ethic bely the difficulties he has endured, and his drive to create his own wine and spirits brand www.bandeshwineandspirits.com is a great inspiration. His wines are great so check them out! I have felt truly blessed to have had these two wonderful humans work with me and their attention to detail and love of life has surely transferred to the wines this year. Winemaking is so much better with friends.
The season was shaping up to be a late one from spring onwards, when significant rains and cool temperatures led to very slow vine growth. A windy and cold November in particular meant a difficult flowering period, and indeed this resulted in smaller berry numbers – the question was always going to be how much…
Summer was mild, with regular small rain events that kept soil moisture levels up and also disease pressure up as well. The Yarra Valley and Mornington (where I do a little consulting work) had a huge task getting a crop over the line, and when they did it was in most cases at lease 50% down on average. A tough one for growers. That said, quality does seem to be very high.
In the Grampians 2022 saw another first – we took control of the Moyston Hills Vineyard and began farming it ourselves, with help from some great local contractors of course! Dipping our toes into the risk and reward of farming is something I've long wanted to do, seeking the pinnacle of quality. We have long admired the cool Moyston Hills site, with high quality Syrah wines having been made from the site by Mount Langi Ghiran and Bests for many years. It also has small sections of Grenache and Mourvedre, important for our Super G wine. The site performed admirably and set a pretty reasonable sized crop with very small berries. We kept the water to a minimum and canopies held up well throughout the long season, even when the sheep got into the top block and stripped the bottom 4 leaves off every shoot! Thankfully they didn't like the green berries, and left them alone meaning we had a perfectly exposed fruitzone for maximum light. We finally began picking on 31st March, with 3.1 tonnes from the older, bottom block. It looked in great condition and we then were able to finally get the rest of the Syrah off about 1 week later. Getting harvesting crews was very difficult this year, covid finally biting the labour force, and we had to bring crews from Melbourne to get the job done. It is a worrying trend for the future, unfortunately. Getting labour to put nets on was also tough, and we made the difficult decision to leave the vineyard un-netted. There are no neighbouring vineyards to feed the birds – so pressure was high, and we saw some bird peck, particularly in the Grenache and Mourvedre, which needed to hang until the weekend after easter to get ripe. Lessons learned, and definitely some grapes sacrificed, but we'll be more organised next year. What's in the vat is all that matters though, and quality looks very good even at this early stage for a single site bottling.
Westgate Vineyard seemed to have suffered more at flowering, and crops ended up around 30% down on normal for syrah, and around 40% down on normal for the rhone whites. Thankfully we picked at pretty much optimal time and the wines look bright, intense and mineral laced. Great vineyard typicity.
Grenache was late as is its way, but flavours are excellent in the 50% reduced crop. I think it is likely that we will only have a couple of barrels of straight Grenache for the mailing list this year, with the majority destined for Super G.
Riesling up at whitlands was a modest crop too, and they faced significantly higher rainfall than the west of the state which really challenged our growers the Crouchers. With another 50mm+ of rain coming late in the season, we would like to have hung it out longer for more tropical flavours but decided that the botrytis risk was too high, and went a little earlier than normal. The flavours are still great, and we fermented the entire parcel in oak foudre this year to help build width and generosity.
The wines as a set look very good at this early stage, no problem ferments, good regional and vineyard expression and good intensity. They perhaps don't have the pepper of 2021, but that was one out of the box, and instead they have the mid palate weight suggesting a long life. While they are unique babies in their own right, there are echoes of 2005, 2012 and 2014 in there, all excellent vintages.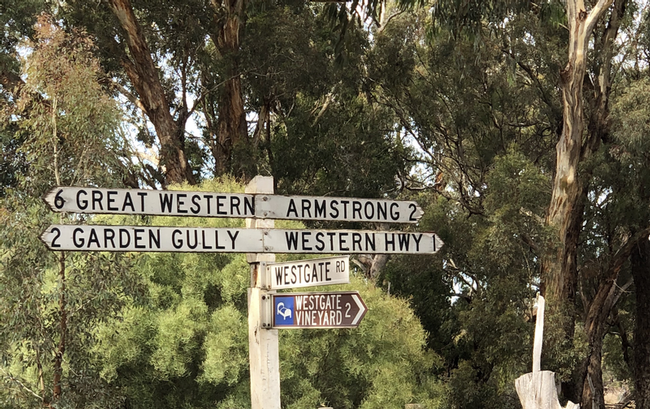 2021 VINTAGE REPORT
The growing season started well across most of Victoria with solid winter rains and some pretty full dams which gave confidence that we'd have both good soil moisture and water reserves should things get dry. This proved to be the case and spring was indeed drier than normal, but vines grew steadily and thankfully it seemed that the vines were very fruitful, after a crop down 60% in 2020.
One thing that didn't seem to materialise however was heat – flowering was very slow and cool, which is always a nervous time hoping that the little flowers will convert in sufficient numbers to berries. They finally did, and yields seemed very healthy, with high bunch numbers and good numbers of berries per bunch. This is the stuff grape growers dream of, and they were further rewarded with rain at good intervals throughout summer which helped to increase berry size as well. At this point us winemakers tend to get a bit worried (we're always worried about something in vineyards) because crops look big and we think it might not all ripen properly or evenly, or with sufficient flavour intensity. There was a need to thin the crop in some vineyards, particularly the Marsanne and Roussanne and Grenache, which are varieties already prone to bigger crops, and without dropping some around veraison it was unlikely we would have got the crop through to maturity.
The weather around this time of late January and early February was unseasonably cool and a little wet, which reminded me of 2017 and 2011 (nightmares) but also a little of 2005 (which was cool and late but turned out to be quite a robust vintage after all). I was hoping for a repeat of 2017 which was a vintage I love, full of bright natural acidity, focused, long and elegant wines that had a slow, full ripening period to develop great tannins, but the rain persisted sporadically throughout February and into March and temperatures didn't look like they were going to get warmer, but more likely going to slide into autumn and cool off. By mid-March we only had some Prosecco in the winery.
Then, strangely, one of our latest varieties the Whitlands Riesling seemed to be getting ripe earlier than expected, albeit with searing acidity. By the 19th of March there was a window to pick before more rain but I decided to hold my nerve and wait for the acids to drop a little and flavours to progress. After the rain, it was always going to be a case of holding on as long as possible for flavour before botrytis became too big an issue (although a touch can be nice in Riesling).
By the beginning of April we still hadn't picked anything else and I was getting a bit tense, as sugars in Syrah seemed to be stuck in the high 11s to low 12s, and acids were off the charts. We needed some good weather, pronto, or it was looking like a possible disaster. Almost on cue, mother nature delivered. A solid 4 days 30+ degrees, and it was as if the vines had just been crouched on the starting blocks and the gun had finally gone off! Sugars leaped 1.5 degrees in a matter of days and there was never going to be a better time to harvest. We sprang into action, picked all the Marsanne, Roussane, Viognier and all the Westgate Syrah, and the bulk of the Moyston Hills vineyard Syrah within a few days, (not to mention a few truckloads of other contract clients' grapes at the same time) and vintage was then fast and furious, with wave after wave of harvesting going on throughout the rest of April, dodging rain and hoping disease wouldn't set in.
As per usual, the Grenache and Mourvedre were late to come in, the Grenache at one point looking a write-off but miraculously getting over the line with very nice flavours and numbers similar to 2020, on the 29th April. Sighs of relief all round.
As I look across the young wines now finishing malolactic fermentation in barrel and then settling in to rest until the end of the year, there are definite threads that tie the wines together – Syrahs are savoury, long, light to medium weight and with superb, intense and vibrant purple/crimson colours. They also have a huge amount of rotundone, the 'pepper' compound, which is like catnip to me, so I'm pretty enamoured with them. There are echoes of 2017, 2004 and 2005 and a hint of 2020 as well. All great, cooler years. I think they will be 'classically styled' wines that will excite early on for their sheer vibrancy and presence in the glass, then settle in for a slow evolution. Marsanne and Roussanne emerged riper than expected, but with good intensity for a big crop, and we have several smaller ferments including some fermented in ceramic egg, some fermented in 1000L foudre, some fermented on skins (watch this space for a separate small-batch bottling) and some in puncheon. It will be a truly interesting and complex wine. Riesling looks glorious, full flavoured but with tight acid and focused phenolics. Grenache seems light and dark at the same time – somewhere between 2017 and 2019. In truth I don't know where it's headed but it has lovely aromatics and a good whiff of pepper as well, so both it and Super G will be more Northern than Southern Rhône, if that makes any sense!
There are a couple of tiny batches that we will bottle just for the mailing list so make sure you stay tuned, but all things considered it is one of those harvests that makes for lost sleep but characterful wines.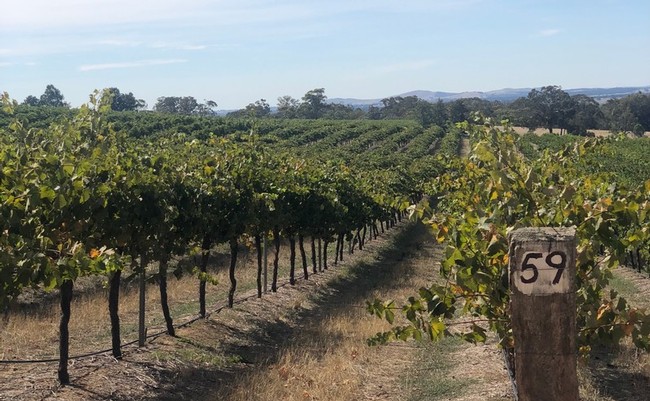 Syrah at Westgate Vineyard, Grampians.
2020 vintage report
Regardless of any other events – cataclysmic though they could have been, none will define the 2020 vintage more so than Coronavirus. Its tentacles reached into almost every sector of our lives, and its effects will be felt across the wine industry for long to come, yet in simple viticultural and oenological terms it has had near zero impact on the wines themselves. It didn't effect flavour, it didn't affect the sun, the rain, the smoke, the disease pressure, the fermentation speed, the temperature or any other climatic or environmental input. Yet there it is. There could be no true account of the vintage without it.
Were it not for the virus, there would still be umpteen stories to tell from 2020. Our production was down 60% from the cumulative impacts of a dry spring, poor wet, windy weather for a couple of weeks during flowering, and then a hot and dry run up to Christmas, when berries develop and start to ripen. Although so devastating and frightening for so many, the mega-fires throughout eastern and northern Victoria have themselves been subsumed by a more global issue, but they tore many a vineyard and home, and left tainted and unusable grapes even if they didn't directly scorch them. Our Whitlands Riesling was one such casualty, and I deemed the risk of poor wine too great for our brand.
The Grampians, thankfully, were largely unaffected by fire or smoke, and the harvest was shaping up as a superb one. Bunch numbers were adequate, the weather mild, January rains kept the vines going but disease pressure was still low. At harvest time however, even as the weather cooled and promised a classic vintage, simply didn't have the volume expected. Everyone was surprised by how low the bunch weights actually were, how small the berries, how few per bunch. What looked average to below average turned out to be less than half. Such is agriculture!
Further south, in Henty and Port Campbell, that cooler, wetter ripening season and poor fruitset turned out to be much more impactful than even the Grampians, and the crop was not even economical to bother harvesting. Such a shame.
So this year we have managed to make only a small amount of syrah (under two tonnes!) from Westgate Vineyard, a little under four tonnes of Grenache from Paul Dakis' vineyard at Great Western, 800kg of Mourvedre from the Robinson's Moyston Hills Vineyard, and mercifully an average size crop of approximately six tonnes of Marsanne, Roussanne and Viognier, again from Westgate.
The wines are now all pressed and in barrel, ticking through malolactic fermentation as the weather cools. My initial impressions are of powerful wines, with ripe and persistent tannic structures, yet quite fresh acidities and red fruits more akin to a cooler year. So was it a cold or a warm year? I would say, at the risk of sitting on the fence, both! It started warm, and I thought we could be in line for a super early harvest, but January and February cooled, and rainfall also allowed the ripening curve to flatten (sorry, couldn't resist), and we picked with low pHs, high malic acids, yet healthy sugars. How much of that acidity will remain after malolactic fermentation remains to be seen. Fermentations were the cleanest and healthiest I have observed for years, and the resulting wines seem very pure expressions, which gives me the option to work with the lees to add more texture rather than discard them for fear of sulphides. They know nothing of corona.
So how were we affected then? The main issues are industry wide ones. March saw the start of the shutdown, and I didn't know whether it would be a blanket imposition or a more nuanced one. For a few weeks there we faced the prospect of potentially having to walk out of the winery with a shed full of grapes destined to spoil, and even were it not imposed arbitrarily it would certainly have been so if just one of our workers or contract clients contracted the illness. Tenterhooks. Logistics were more difficult, picking crews shunned altogether from some vineyards, transport strained and pricing seemed to jump for just about everything as the fear took hold. In a favourable yet bizzare twist, winemaking was considered an essential service, and we breathed a sigh of relief (into our elbows).
The wider implications for the industry have been plain to see with the closure of all restaurants, to the point of writing, for 10 weeks. Our business has always been majority focused on the restaurant trade, so our revenue has declined by around 70%. Export markets have dried up. Even a staggered reopening of restaurants will take many months, if not years, to get the restaurant trade back to what it was, and in these times of rapid disruption and change, its next incarnation may indeed be very different. So we try to adapt, we invest what we have in servicing new clients and building our mailing list of direct supporters. We run Zoom tastings and forge new partnerships to deliver events and find a way to get our wines into people's minds and mouths. Times of upheaval force a rethink, and that is invariably a good thing. Perhaps our wine business has to change, perhaps we do less of some things and more of others. One thing is clear, the need to focus on wine quality, to hone the craft, to make wine that impresses. I think with the passage of time the wines from 2020 will do just that.